Cockroach Extermination & Control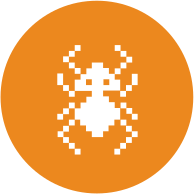 Cockroaches are never a welcome guest. These disgusting little creepy crawlies can contaminate surfaces and spread disease in your home or workplace. If you need help dealing with a cockroach infestation in Auckland, PCS Pest Control can help you get things under control.
Cockroaches in NZ
There are a few different varieties of cockroaches in New Zealand, the most common being the German cockroach. These are the cockroaches that can carry disease and contaminate food and surfaces. They are carriers of pathogens such as salmonella, E. coli, hepatitis E, diarrhoea, dysentery, and staphylococcus, and have been linked to outbreaks of gastroenteritis, typhus, and skin diseases. Contact with cockroaches can also lead to a number of allergic illnesses, including dermatitis, rhinitis, bronchitis, and asthma.
Getting rid of cockroaches
Cockroaches can be notoriously hard to get rid of, which is why your best bet is to call in the professionals at PCS. There are hundreds of do-it-yourself cockroach control products on the market, but chances are you will waste a lot of time and money trying to find one that is effective.
Get in touch with PCS Pest Control
Nobody wants to deal with cockroaches, and PCS Pest Control can make sure that you no longer have to. Get in touch with our experienced team of professionals using the form below to sort out your residential or commercial pest control needs.