Flea Pest Control and Extermination Services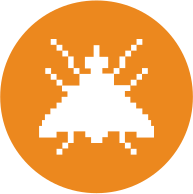 No one likes dealing with nasty pests, especially when those pests bite! Flea infestations are a common issue in NZ households, and they can be tricky to deal with yourself. PCS Pest Control can provide flea extermination services, dealing with the problem quickly, professionally, and safely.
Get in touch with us now, or read on to learn more.
Fleas – A Common Household Pest
Fleas can be a nuisance, and often find their way into homes by hitching a ride on cats or dogs, and sometimes even humans. Fleas can be a year-round problem, but they tend to thrive in summer, preferring the warmer and more humid conditions.
Fleas breed in carpets and dusty areas, and females can lay hundreds of eggs in their lifetime causing the population to grow fast. Because they're so tiny they can be hard to spot, but if you and your family are finding itchy bites on your feet, legs, and waist area, chances are you have a flea problem.
Flea eggs can lie dormant for months and sometimes even years before hatching when a food source becomes available. This is important to note, as flea treating your pets will kill the living adult fleas, but the eggs may remain and hatch later, causing problems and infestations that seem random. At PCS Pest control, all stages of the flea lifecycle are eradicated using products approved by the Environmental Protection Authority (EPA) for use in and around homes, ensuring that you won't have to deal with another infestation a few months down the line.
Do you need help with flea extermination?
If you have an issue with fleas, PCS Pest Control can help. We offer:
Free quotations and competitive pricing
Warranty periods on most treatments
Only the best pest products used
Expert advice