Fly Extermination and Fly Control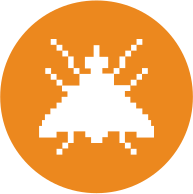 Flies can be a real nuisance in your home and workplace, especially over the summer months. As well as being annoying, they can jeopardize hygiene and transmit pathogens, bacteria, and viruses, which can be dangerous to you, your family, or your staff and customers. PCS Pest Control has over 50 years of expertise in the extermination business, so you can trust us to get the job done and get rid of any unwanted visitors.
Get in touch with us now, or read on to find out more.
Fly Control in Residential and Commercial Settings
While a fly swat may keep the odd housefly at bay, in the warmer months when flies are breeding, something more heavy duty is often needed. Whether you are struggling with flies at home or in a workplace, PCS Pest Control can help you get things under control and fly free.
Flies can carry more than 1 million bacteria on their bodies and can transfer these to surfaces and food. The common housefly can transmit the pathogens that cause shigellosis, typhoid fever, E. coli, and cholera. We can help you get rid of flies quickly and safely, which can be particularly important in a hospitality business where food is prepared and served. Our trained and experienced technicians will treat any pest problem with professionalism and a strong customer and safety focus. All the products we use are Ministry of Primary Industry (MPI) approved in your businesses.
Get in Touch Today
If you have an issue with flies in your home or business, get in touch with us today for any kind of information, advice, or a quote. Our quotes are quick, free and carry no obligation.